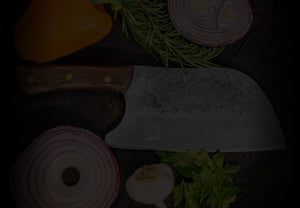 Knife Care Information
NEVER EVER EVER.... WASH YOUR KNIFE IN A DISHWASHER! It will rust, be ruined and I will never forgive you.
Wash by hand (CAREFULLY) with dishwashing liquid and a sponge. Don't soak.
Lightly oil the knife with food-grade mineral oil occasionally(use a soft towel).
Carefully sharpen as needed with the Dads That Cook Ultimate Sharpener or take it to a pro.
The knives do patina that is natural…they need to be cleaned and dried immediately after every use. 
When I'm cooking, I have a towel to wipe them off as I go… The patina can be easily removed using soap and water with an abrasive sponge.
The Cleaver Knife is designed to slice meat / vegetables and will chop small poultry bones only. Do not try to chop large bones with it.
Dads That Cook
Ultimate Knives
Crazy good food brings family and friends together! And now you've chosen The Ultimate Beast from Dads That Cook to help make that happen. I know you will love out knives ass much as I do...
GO SLAY IT!
Cheers,
Jason
Ultimate Sharpener
Introducing our versatile Ultimate Sharpener that provides a convenient solution for all your sharpening needs. With four specialized slots (scissors grinding/emery/tungsten steel/ceramic), it swiftly restores, grinds, polishes, and hones your knives in a matter of seconds.
Stainless Steel

4 Stage Sharpener
Easy to use
Non-slip base and ergonomic handle
Restores, grinds, polishes, and hones your knives in a matter of seconds
HOW TO USE THE ULTIMATE SHARPENER